NORTH CHARLESTON — Online restaurant reservation service Resy and credit card service company American Express gave away free dinners to patrons at restaurants across the nation on the night of March 10, and Jackrabbit Filly in North Charleston was one of them.
It was part of the companies' monthlong reservation drive, dubbed "Every Resy Counts," to encourage diners to book a table at independently owned restaurants.
"As we approach the two-year mark of the pandemic, restauranteurs continue to need community support to help make up for lost revenues," Elizabeth Rutledge, chief marketing officer of American Express, said.
"By rallying together, we hope to inspire consumers to grab a table at independent restaurants throughout March, and beyond, to help them continue to get back on their feet," she added.
A series of initiatives are triggered for every one million reservations made through Resy this month.
The first million was announced March 8 and came with a $500,000 donation to the Southern Smoke Foundation, a crisis relief organization for people in the food and beverage industry.
The free dinners were triggered by hitting the 2 million reservation benchmark. Resy and American Express vowed to cover up to $99 per person, with a maximum amount of $594 per table, at eight restaurants nationwide on March 10. Diners were alerted via email or text before their reservation time.
Jackrabbit Filly was selected alongside Fish Cheeks in New York City, Tokki in Los Angeles, Niu Kitchen in Miami, Galit in Chicago, Bar Vegan in Atlanta, Lucille's in Houston and Mister Jiu's in San Francisco.
Diners Timbo and Heather Kite, from Jacksonville, Fla., were in town for a show at the North Charleston Performing Arts Center and had made their reservation at Jackrabbit Filly, a top-rated restaurant they came across while doing trip research, weeks ago in anticipation.
They were pleasantly surprised by the text that told them dinner would be on Resy and Amex.
"We like to eat, so we got a little bit of almost everything," said Timbo Kite.
That included the fish tartare, Sichuan hot karaage, curry noodles and roast fish — along with a bottle of wine.
Longtime regular Tina Tragakis was one table over with friend Jenny Grosso, who runs Lodi Coffee around the corner on Ashley Phosphate Road.
Tragakis, who lived in various countries across Asia for 15 years, said she came every week to the Sunday brunch farmer's market at the Pour House to get Jackrabbit Filly fare from the food truck when it was operating during the pandemic.
"I don't get chicken anywhere else," offered Grosso, who had ordered three helpings just for herself.
At another booth sat regular Lindsay Collins of food and beverage comedy podcast Effin B Radio, along with her husband and visual artist Jeremy Croft and their three children Julian, Luca and Roman.
Collins said they made the reservation about three weeks ago in anticipation of a nice family night out after Collins had to work Charleston Wine + Food.
The restaurant has been a favorite, back since they got takeout there every Friday during the pandemic before retreating for a family movie night.
Julian, 7, said he celebrated his birthday there in October and his favorite foods were the fried rice and dumplings.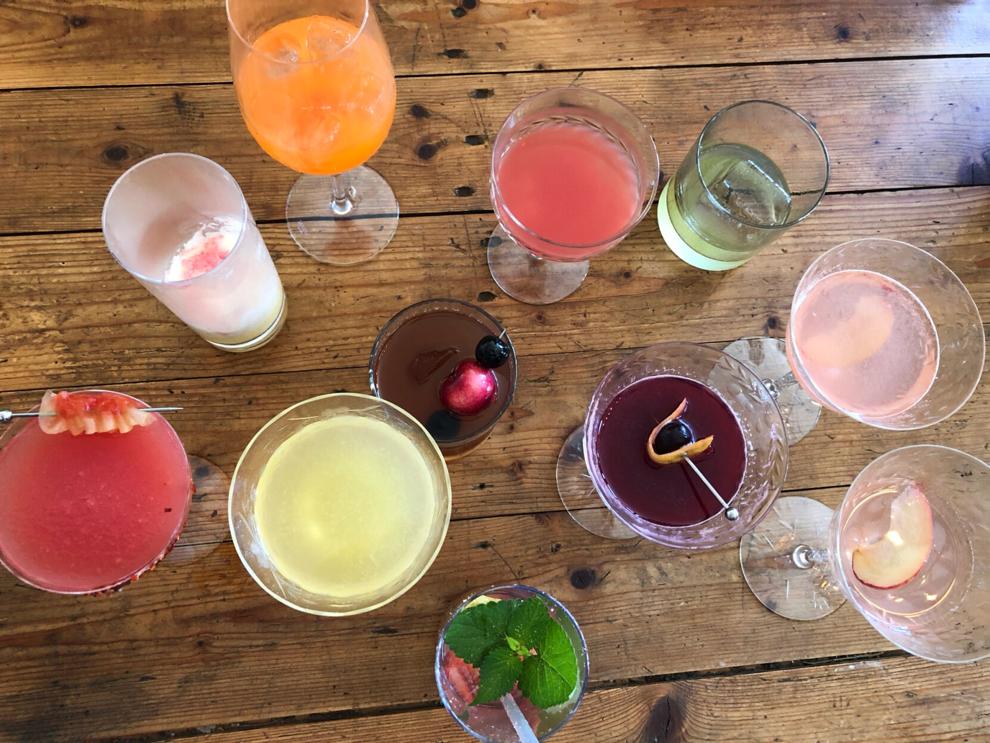 "It was our lucky break," Collins said of learning about the paid-for meals.
Owner and Chef Shuai Wang said it was hard to keep the special night a secret once Jackrabbit Filly was selected for the initiative.
"We wanted to tell all our friends, but we kept it on the down low and worked out all the details," Wang said.
That included not alerting social media until 48 hours before the free dinners were set to take place. Once that happened, the restaurant was completely booked for reservations in less than an hour, said Wang.
He said there were close to 50 guests on the wait list.
When Jackrabbit Filly first opened in November of 2019, there were no reservation services.
"We were literally just writing names and numbers down on a yellow notepad," Wang recalled. "It was insane, like it was crazy busy, it was chaotic."
Then, once the pandemic hit, Wang pivoted to exclusively takeout and a food truck for a while. Once restaurants began opening their doors again in Charleston, he noticed a promotion from Resy that offered to cut fees for an extended period due to the global crisis. He signed up.
Outside of New York City, Charleston was the first city in the nation in which Resy set up a brick-and-mortar office. That was back in October of 2019.
"It punches above its weight class in terms of the restaurant scene," Ben Leventhal, Resy CEO, told The Post and Courier at that time. "We've always felt a kinship here."
American Express announced its purchase of Resy just before that in May of 2019.
A Resy representative expressed that 3 million reservations were expected to be made before March is up, if not more, and will come with additional yet-to-be-announced initiatives.
.