Admittedly, it is a basement.
"I see it every day, so to me it's just a basement," says Melissa Spreda, supervisor of aquarium and reptile center at the Milwaukee County Zoo, as she prepares to show me around her workplace.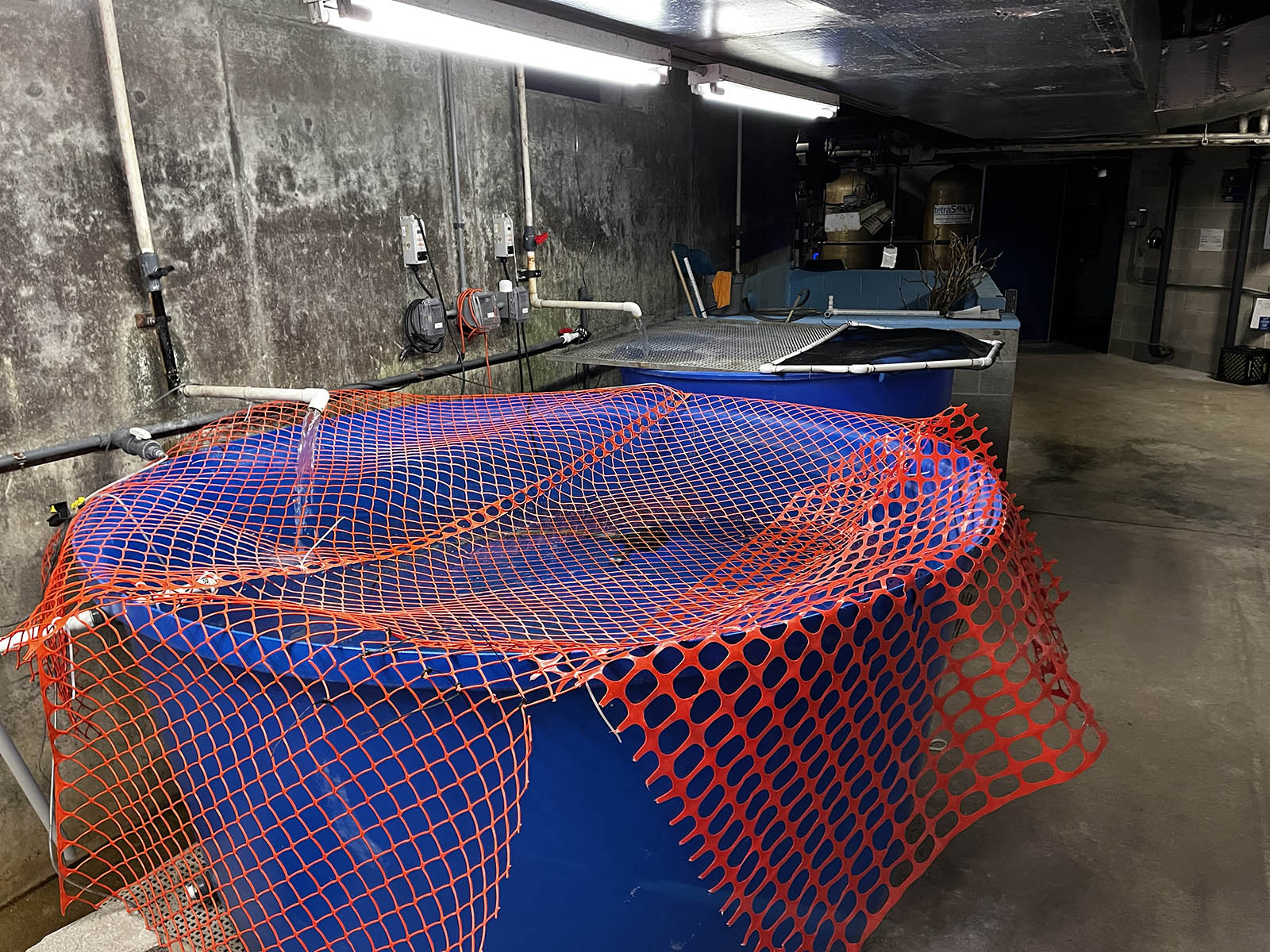 "But I guess it's an interesting basement to some people," she admits.
And it sure is interesting … at least to me and, if previous similar events are anything measure, to lots of other folks, too.
The Zoo hosts what had been its annual Inside the Zoo weekend on Saturday and Sunday, March 12 and 13, and this basement will surely be one of the most visited spots.
The event was canceled for the past two years due to the coronavirus pandemic.
But now it's back and Zoo Pride volunteers will staff all kinds of behind the scenes areas that will offer visitors peeks at areas of the zoo, from 10 am until 2:30 pm, that are rarely seen by the public.
Sure, you know monkey island and the play area and the Family Farm like the back of your hand, but this event, which is free with regular zoo admission, will let you see the areas where animals are cared for, where equipment helps keep them safe, fed and sound, and where some beloved zoo attractions are maintained. Or should I say, maintained?
Some of what will be available for visits are the off-exhibit moose habitat that's been home to Moose Robin since she got her own pad six years ago; the elk habitat; the service area behind the recently built Dohmen Family Foundation Hippo Haven; the elephant care center at the Northwestern Mutual Learning Loft, which also offers an aerial view of the indoor elephant habitat; and the South End Circle, hidden south of the I-94 freeway, where the zoo has its greenhouses, hay barn, train shop and more.
There will also be a chance to meet a zookeeper, vote for your favorite animal by making a donation, special talks and display tables, too, offering information about seals, yaks, big cats, gorillas and more.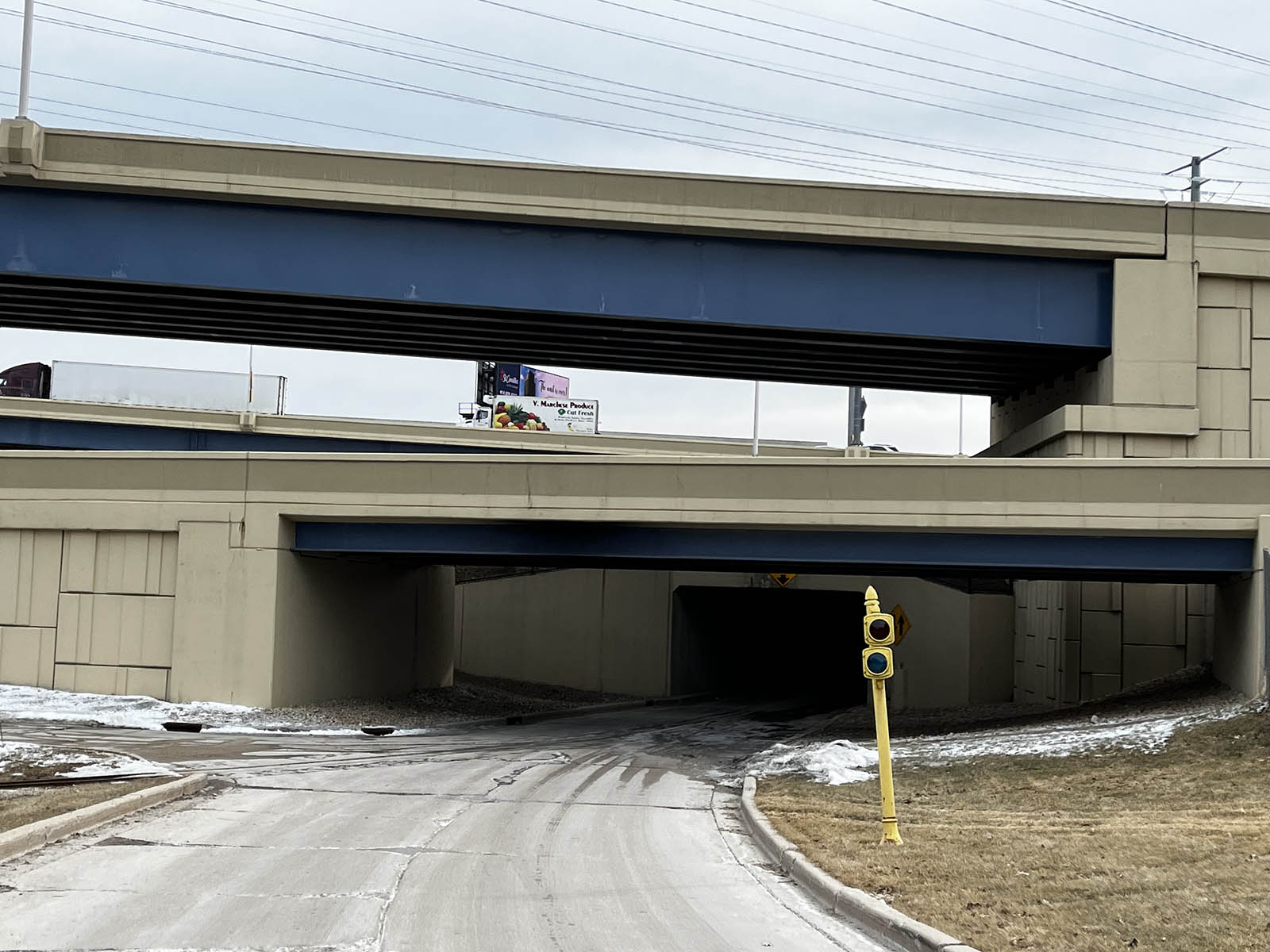 One of the most anticipated stops will surely be the train maintenance shop in the South End Circle, where you'll get to see the rows and rows of carriages, a number of engines – some of them actually undergoing maintenance work – and the workshop where a talented staff has worked hard to keep the trains coursing through the zoo grounds since 1958.
Visiting this area is a little like getting a peek into Santa's workshop, offering a glimpse behind the magic of the beloved safari train.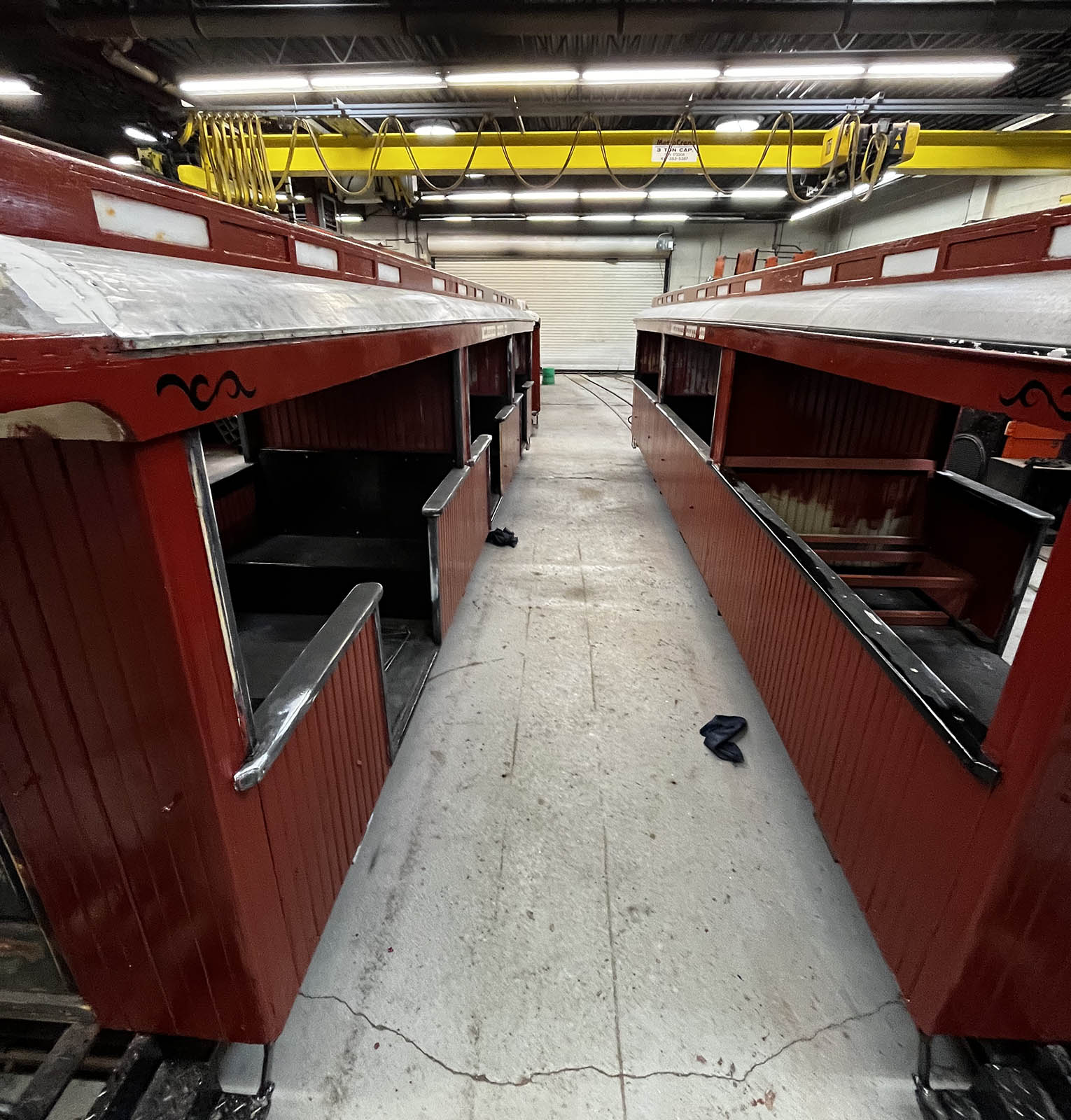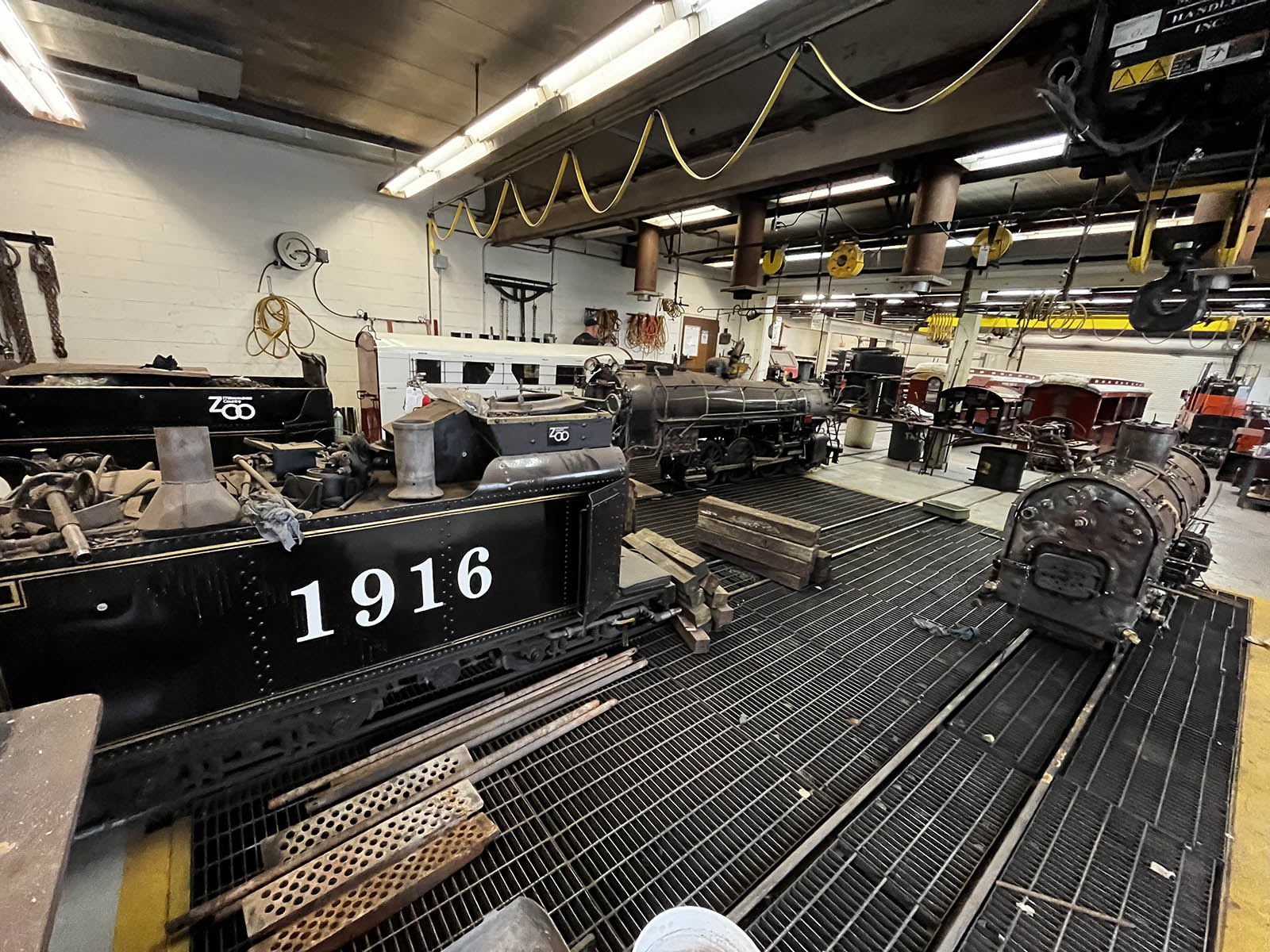 Back at the Aquatic & Reptile Center (ARC), Spreda shows me the different kinds of filtration systems, including a relatively new ozone treatment setup which has an eerie blue glow like a spaceship, and the big concrete tanks full of sand that filter water for the Lake Wisconsin and other large tanks.
Note the tank float here to regulate the water flow … it's just like the one in your toilet tank at home.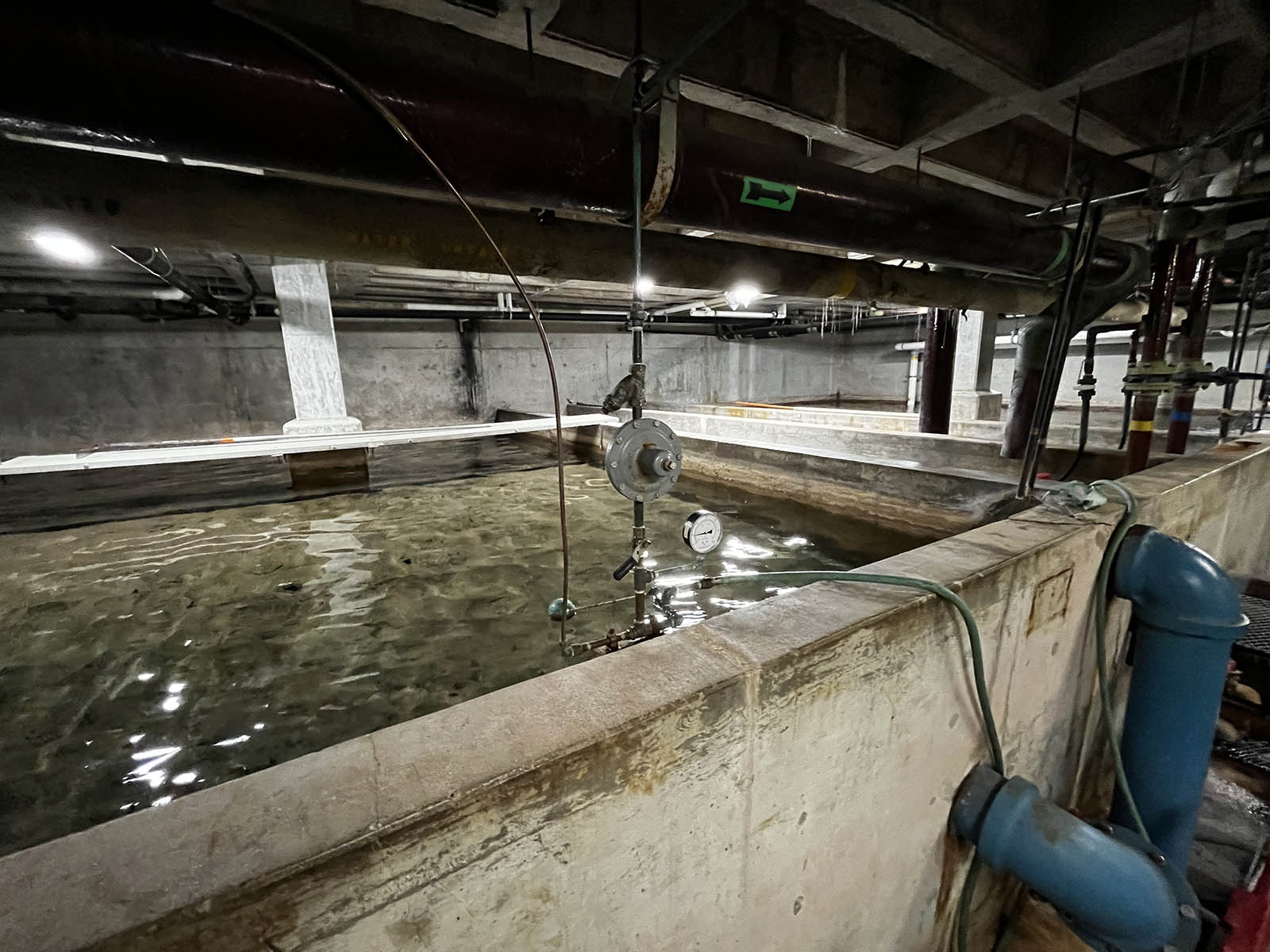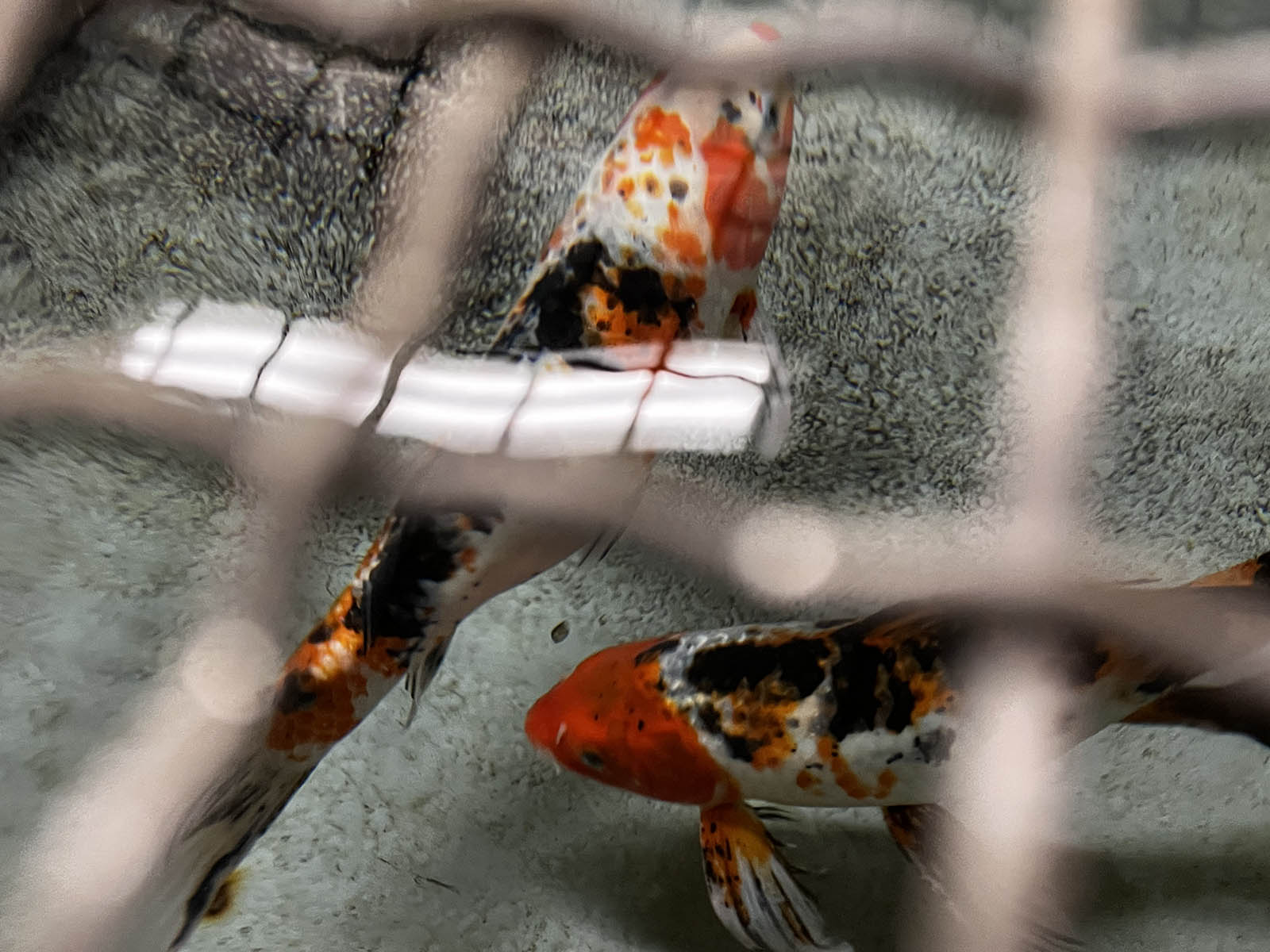 Here you can also see the quarantine tanks that hold newly arrived species for a weeks to get them acclimated and tested to make sure they will not introduce any disease or other problems into the tanks.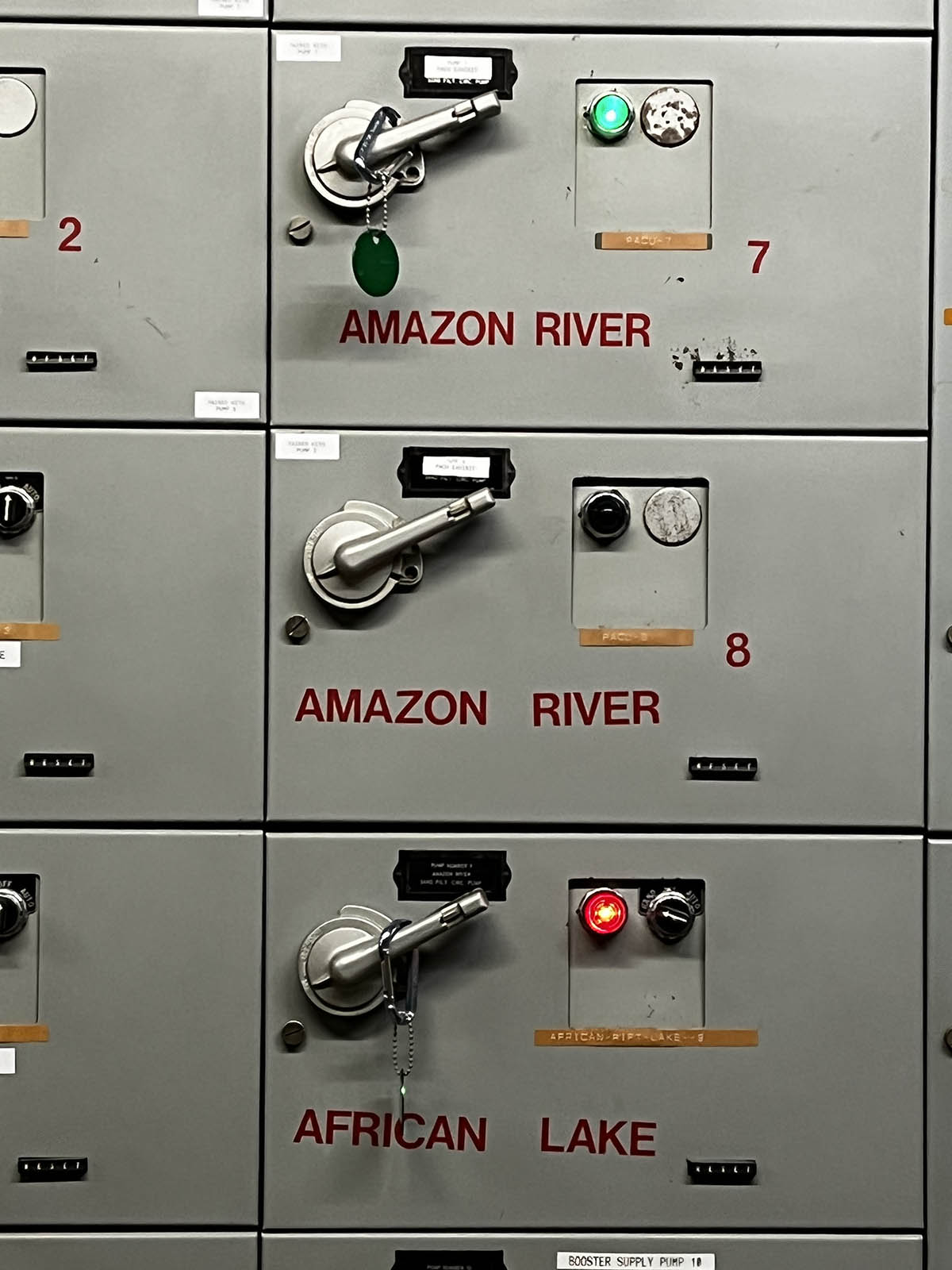 There's some hulking vintage motors and control panels that have been in the building since it was built in the mid-1960s, most of them bearing classic Allis Chalmers nameplates.
Other areas of the zoo – including other areas of the ARC – have been open for Inside the Zoo in the past, but this is the first time in a number of years that you'll get to take a look down here.
It's definitely worth checking out, and do not miss the opportunity to visit the train shop!
Staff members will be on hand, along with the volunteers, to answer your questions, too.
Please note that there may be occasional waits, changes or early closings due to health and safety guidelines.
Zoo admission is $14.25 for adults, $11.25 for ages 3-12, seniors (age 60 and over) are $13.25, and parking is $15. Milwaukee County residents with ID get $1.75 off regular admission.
Read a history of the construction of the Milwaukee County Zoo here.