In the last edition of Still Goofy About Disney, we featured seven vintage photos from Disney's "very historic past," as Walt once said … press photos that were, on average, at least three decades old. We decided to reach into our collection again and came up with seven more photos from Disney's days gone by.
Enjoy the next edition of Disney Memory Lane, Vintage Photo Edition.
A FREE-FLOATING SPACE COLONY WAS ON THE HORIZON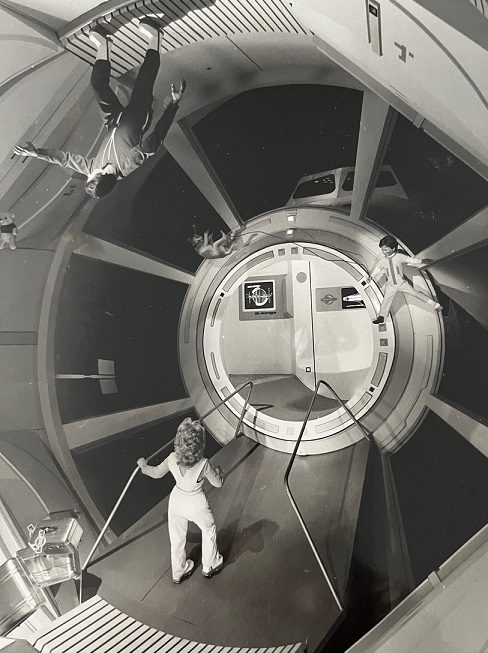 The Horizons pavilion in EPCOT's Future World debuted on Oct. 1, 1983, one year to the day after Walt Disney's World's second theme park opened to the public.
The pavilion was sponsored by General Electric, which also sponsored the Carousel of Progress in the Magic Kingdom. In fact, Horizons was considered a sequel to GE's groundbreaking attraction, which had its origins at the 1964-1965 New York World's Fair.
The Horizons attraction utilized Disney's Omnimover ride system. Guests boarded small ride vehicles and were shown a variety of scenes depicting visions of the future.
The ride showed future communities located on land, sea and in outer space. Three-dimensional settings, Audio-Animatronics figures, computerized special effects and cinemagraphic techniques were used in each scene.
In the photo above, the life-size scene showed space travelers arriving at Brava Centauri, a free-floating space colony where weightlessness created a few check-in problems for arriving guests.
The woman in the scene looks up as her son, her husband and their dog grapple with being weightless above Brava Centauri's entry portal.
There's even a "hidden Winnie" floating with them, left.
At the end of the Horizons journey, guests were given a choice to experience what life might be like in the future in three different environments: Under sea [Sea Castle research base]; in space [Brava Centauri] and in a desert [Mesa Verde].
Horizons enjoyed a long run, closing permanently in 1999. Mission: SPACE replaced Horizons in 2003.
SCARY CLOWN IS FINALLY TAKEN DOWN
The area in and around Disney's Boardwalk Resort is reminiscent of a typical resort along the Atlantic seaboard.
There are elements of Atlantic City in New Jersey and Brooklyn's Coney Island sprinkled throughout the resort, which opened in 1996.
Even the pool, called Luna Park, was a carnival-themed area which featured a carousel pool bar and a herd of playful elephant statues spraying water from their trunks.
One of the Boardwalk Resort's most endearing attractions is the Keister Coaster, a water slide that looks very much like the kind of classic wooden roller coaster you'd find at any beachside town.
One of the least endearing aspects of the Keister Coaster was the final drop into the Luna Park pool, where guests would slide through the mouth of a smiling clown before splashing into the pool.
Almost from the pool's opening, that less-than-amusing face became known as The Scary Clown. Some guests were amused by its Twilight Zone-ish aura, others [particularly younger guests] found the clown downright creepy.
In 2020, The Scary Clown was finally taken down, replaced by a Mickey and Minnie-themed, more family friendly billboard.
THE MILLENNIUM CELEBRATION AT EPCOT
Walt Disney World in general, and EPCOT, in particular, celebrated the millennium in grand fashion.
Twice a night for 15 months [from 1999 into 2001] around the World Showcase, the Tapestry of Nations procession delighted guests as part of the World Millennium Celebration.
More than 120 larger-than-life "puppets" were accompanied by 32 drummers and a dramatic original score to create a street festival atmosphere.
The puppets were designed by Michael Curry, who designed the puppets for "The Lion King" show on Broadway, as well as other Disney Parks shows.
The puppet shown in the photo above was known as Hammer Man, a humanoid character made from pieces of sheet metal.
Other puppets in the procession included Disc Man, The Sprite, Bird Man and Aztec Man.
All of the puppets were controlled by human beings during the mile-long trek around World Showcase.
GONE, BUT CERETAINLY NOT FORGOTTEN
Before there was the "Trip the Light Fantastic" song in Mary Poppins Returns, you could trip the light fantastic at the Disney-MGM Studios during several magical weeks around the holiday season.
From 1995 to 2016, the Osborne Family Spectacle of Dancing Lights was a major attraction at the MGM [now Hollywood] Studios.
The show was originally conceived by Arkansas businessman Jennings Osborne as a gift to his then-6-year-old daughter. Osborne started small, decorating his own house with Christmas lights. He then bought the two houses on either side of his, allowing him to expand the display.
But when Osborne's neighbors complained about the massive traffic jams each night, legal problems ensued, with the case going all the way to the U.S. Supreme Court.
When Disney learned about the display and the legal issues, they worked with Osborne to place the twinkly light show along the residential and city streets within the Studios.
Over the years, the display in the Studios expanded and became more sophisticated.
Each night during the Osborne's yearly run, the massive collection of lights and Christmas music were synchronized to provide guests with a stunning display of holiday cheer.
And for added fun, snowflakes would fill the night sky.
It was not unusual for guests to enter the park for the sole reason of watching the stunning display of seasonal magic, spend an hour or two enjoying the show, then leave.
When the decision was made to create new lands devoted to Star Wars and Toy Story, the New York street area was demolished … and the Osborne Family Spectacle of Dancing Lights became part of a long and growing list of Disney Parks attractions that are gone … and sorely missed.
DISNEY'S COMMITMENT TO NATURE TAKES FLIGHT
Ever since Disney's award-winning TrueLife Adventure series in the 1950s, the Walt Disney Company has been committed to conservation, being environmentally friendly, all while teaching its guests how to be conscientious stewards of our planet.
Among the first hints of that commitment to nature on a grander scale was at Walt Disney World in 1974, when a tropical sanctuary known as Treasure Island was opened.
The island, which is about 11.5 acres, sits in the middle of Bay Lake and can be seen from the shores of the Contemporary and Wilderness Lodge resorts.
Later renamed Discovery Island, the attraction was only accessible by boat. Once on the island, guests could observe many species of animals and birds in a natural environment.
Discovery Island was a nationally recognized zoological park. Many of the rare birds on the island [three of which are seen in the photo above] roamed freely, while others were protected in one of the world's largest walk-through aviaries.
Many saw Discovery Island as a precursor to the opening of Disney's Animal Kingdom theme park.
Indeed, after Animal Kingdom opened in 1998, the decision was made to close Discovery Island. Most of the birds and animals were transferred to the new park.
Once Discovery Island closed in 1999, Animal Kingdom renamed its central hub area from Safari Village to Discovery Island.
The original Discovery Island has been abandoned since its closure, with a few deteriorating buildings still visible from watercraft plying the waters of Bay Lake.
EVERY PICTURE TELLS A STORY … EXCEPT THIS ONE
The photo above is considered THE official dedication photo taken during the opening of Walt Disney World in 1971.
That's Roy O. Disney, Walt's brother, who appears to be reading the dedication for the new park on Oct. 1, 1971. At his side is Mickey Mouse.
Roy's words of dedication on that momentous day were:
"Walt Disney World is a tribute to the philosophy and life of Walter Elias Disney … and to the talents, the dedication and the loyalty of the entire Disney organization that made Walt Disney's dream come true. May Walt Disney World bring joy and inspiration and new knowledge to all who come to this happy place … a Magic Kingdom where the young at heart of all ages can laugh and play and learn … together."
 When I look at this photo, however, I don't see an official dedication ceremony taking place.
I see a dress rehearsal.
When you look over Roy's shoulder and Mickey's ears, you see a group of folks [likely Disney execs and cast members] milling about, some laughing, some talking … almost all looking away from Roy, not paying a lick of attention to him as he stands at a podium set up in Town Square.
Had this been the actual reading of the dedication, you can bet those cast members would have been facing Roy, probably seated, and paying rapt attention as the historic occasion unfolded.
WHO DOESN'T LOVE A NIGHTLY PARADE OF BRIGHT LIGHTS?
When it comes to night-time electric light parades, no one has done it better than Disney.
It started a few weeks after Walt Disney World opened in 1971. That's when the Electrical Water Pageant on Bay Lake and Seven Seas Lagoon debuted.
A series of pontoon boats appeared on the water around closing time each night. Attached to the pontoons were thousands of twinkling lights, affixed to skeleton-like aluminum cages, as well as large speakers.
The show had a nautical theme, with dolphins and dragons and fish "jumping" from one pontoon to the next. All the while, music blasted from the speakers attached to the pontoons.
The conga line of pontoons made its way from the Magic Kingdom boat dock area to the Polynesian Resort, over the water bridge, to the Contemporary Resort, giving guests "a kiss goodnight" as they were leaving the park.
The Electrical Water Pageant was a big hit, so much so that the powers that be at Disneyland became a bit … shall we say, envious.
They wanted their own "kiss goodnight," but since there are no large bodies of water at Disneyland, they had to come up with something else.
And so, the Main Street Electrical Parade was born.
Instead of boats, brightly lighted themed floats [powered by nickel-cadmium batteries] rode along Main Street, to the delight of guests lined along the route.
Disney devised a radio-activated "trigger zone" system, which meant that every person watching the parade would experience the same show, no matter where they stood along the parade route.
The original parade at Disneyland ran from 1972 to 1996, and again in limited engagements in 2017, 2019 and 2022. In Florida, the Main Street Electrical Parade ran between 1977 and 2016, with two major gaps during 1991–1999 and 2001–2010.
When the Main Street Electrical Parade went on hiatus, it was replaced by SpectroMagic, a portion of which is pictured above.
According to press materials, SpectroMagic "celebrated the magical world of Disney characters in a parade segment more than 100 feet in length and featuring castle towers, a carousel, a bejeweled coach and other dreamlands."
SpectroMagic ran from 1991 to 2010 [with a few breaks in between] before it was permanently disbanded. While SpectroMagic was generally well-received, the Main Street Electrical Parade was – and still is – beloved by Disney fans.
Meanwhile, the Electrical Water Pageant is still going strong every night in the waters around the Magic Kingdom at Walt Disney World.
Chuck Schmidt is an award-winning journalist who has covered all things Disney since 1984 in both print and on-line. He has authored or co-authored seven books on Disney, including his latest, The Beat Goes On, for Theme Park Press. He also has written a regular blog for AllEars.Net, called Still Goofy About Disney, since 2015.