The largest freshwater fish in the world was caught earlier this month. While we like to brag about the size of our Murray cod, they shrink to being a tiddler in comparison to this latest catch. Measuring 4m from snout to tail, this was the largest and heaviest freshwater fish ever taken. It was a freshwater stingray.
It was caught in Cambodia and weighed 300kg, comfortably exceeding the previous record holder: a Mekong River catfish that tipped the scales at 293kg.
A 50kg cod is a big fish here but in the Mekong it would be considered just a bait fish.
If my memory serves me, George, a Collingwood supporter who also fishes, traveled to Thailand to fish for giant catfish. His wife, who also likes fishing, landed a catfish about 100kg. It was later released, as was the giant stingray.
For those that say a stringray is not a freshwater fish — according to marine experts, if a fish lives all of its life in fresh water, then it is deemed to be a freshwater fish, as is the case with this stingray.
Around our neck of the woods, a fish in the 1m size range would be a big fish but this week nothing measuring anywhere near that size was reported. In fact, due to the weather, pickings were slim.
A few keepers at Eildon, no reports from the Goulburn and Murray rivers — the exception was at Lake Dartmouth where trout were on the bite.
Lake Hume was also reported to be worth a try, with some trophy-size trout starting to be caught. Anglers trolling Tassie Devils and bait behind a fender were starting to get results, and angling a bait of worms or yabbies was still resulting in redfin when fished among the tree lines.
So on your way to fish at Dartmouth or on the way home, you could stop off at the Hume.
Eildon is also worth a visit. Cod can be caught in the river arms as well as the deep water in front of the wall.
Large deep diving lures, as well as scrub worms or yabbies, are worth a try.
Spinning Jackall lures near and among the structure is tempting yellowbelly, and trolling Tassie Devils and baits behind a Ford Fender is resulting in trout being caught, with an occasional trophy fish among them.
Well let's hope that we can get some decent weather soon, I am still trying to dry out from the rain. If it's not raining, it's foggy or windy, but you never know your luck. A good day is just around the corner — or I hope it is.
Down south at Queenscliff, Rod Lawn from Adamas Fishing Charters was interested in the huge freshwater stingray. He said its saltwater cousin could be seen around the jetty where he tied his boat up at the end of the day's charter.
This monster stingray is attracted to this spot by anglers when cleaning their catch. This ray would come close to the one described at the start of my tale. Only it is a saltwater species, not a freshwater one.
Back to fishing and Rod said that when he was able to wet a line, there were some snapper to be had fishing the reef around the head of Port Phillip Bay, as well as the inshore reefs off Barwon Heads and Ocean Grove.
These are only pinky size. Rod said the big fish were still a couple of months from returning to the region.
Rod said he was also catching flathead and silver trevally, as well as gummy shark.
Rod said when it was too rough to fish, he tied his boat to the pier near the ferry terminal and fished the outgoing tide. He said he caught trevally, whiting small salmon and bream.
North of the border, John Liddell at Eden reported snapper, morwong and other reef fish and flathead.
Graham Cowley at Narrooma said it was a similar story, with some kingfish to the north of Montague Island.
Once again, big seas kept most of the boats tied up.
Well, as I said, hopefully good weather is on the way and with it some good fishing, so stay safe and if you do wet a line, good fishing.
Time to keep warm
We're past the shortest day of the year but only just, so for any adventurers looking at camping, the warmer the better.
Darche Cold Mountain sleeping bags from $299.99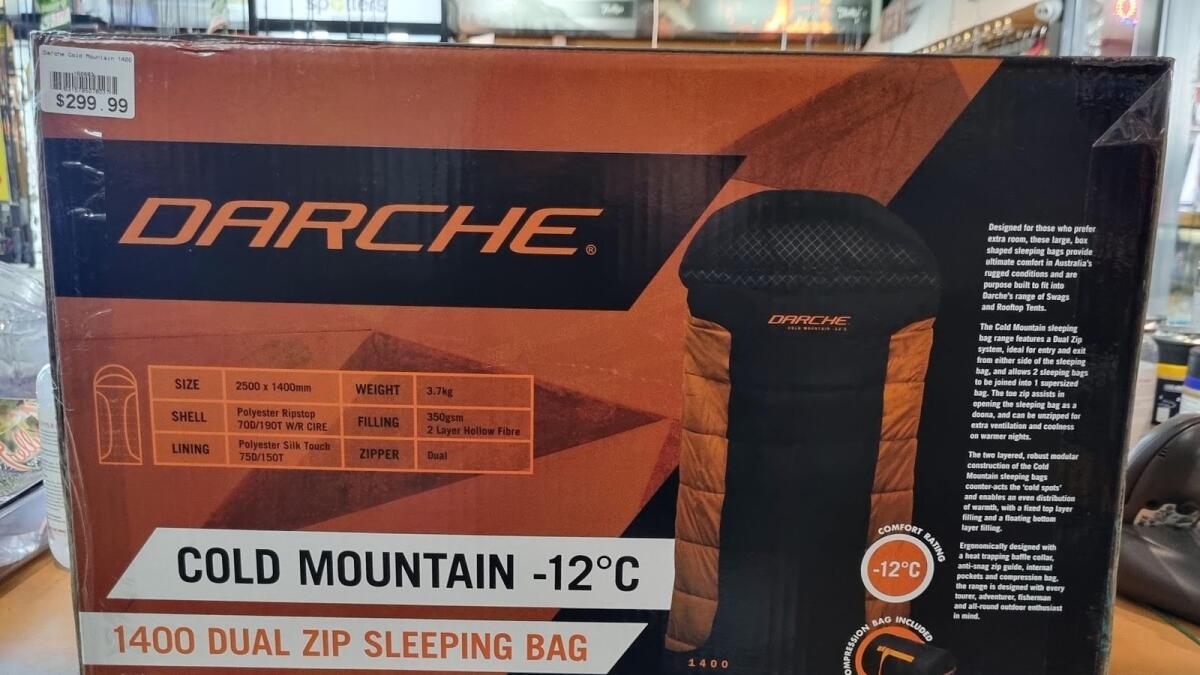 What you are investing in is a good nights sleep, one that leaves you refreshed and ready to pick up a rod first thing in the morning.
Available in 900mm, 1100mm and 1400mm lengths these Cold Mountain sleeping bags will keep you toasty warm even in -12deg.
They feature a roomy design, dual zips and are built to fit snugly in Darche swags.
Shimano Flashboost lures
There's a rumour going around that with a chin weight these new lures from Shimano will catch any cod you are chasing.